Ultimate Camper Sales is committed to protecting the privacy of our website users and customers. This policy explains what information we collect and how we use it.
Our website does not automatically collect any personally identifiable information about you. We do however automatically collect other information to enable us to monitor how our web site is used.
We collect two kinds of information about our users:

Non-personal information
We use Google Analytics to automatically collect information. This information includes data about such as when our website was accessed, how long was spent on a page, information about the device being used and which website linked you to our site. We also monitor how users navigate through the website. This information helps us evaluatae how our website is used, how many people visit the website, which pages are most popular, and which pages are least popular.
Personal information
This information includes things such as your name, telephone number and e-mail address. We collect this information only in connection when certain actions are performed on the website, such as when a user completes the contact form. The collected information is either needed to fulfil your request or to enable us to provide you with a personalised response by reviewing the information provided. You do not have to disclose any of this information to browse our site. However, we may not be able to provide you with certain services.
Non-personal information
This data is used to improve our site and to evaluate traffic statistics, such as the times of day and days of week at which we see peak traffic, and to assess the relative popularity of different areas of the site. Demographic information may also be passed to us by Google Analytics, this includes whether you are Male or Female and what age bracket you are in for example Under 30 years old or Over 50 years old. No personally identifiable information such as your name, date of birth or address is provided to us by Google Analytics.
Personal information
Any personal data that is collected relating to you will be explicitly provided by you when completing a specific activity on the website, such as filling in the contact us form. This data will be used and recorded by us in accordance with current data protection legislation and this Privacy Policy. We will use the information you provide to:
• fulfil your requests, for example when you contact us using the contact forms
• record any contact we have with you
Our sites may contain links to other sites. We cannot be responsible for the privacy policies, practices, legitimacy and safety of other websites even if you access them using links from our website. We strongly recommend that you check the policy of each site you visit.
Most web browsers automatically accept cookies however you can disable this by changing your browser settings. Like almost all websites, our website uses cookies. We use cookies to collect data on how our website is used. The data gathered is aggregated and does not contain personally identifiable information and therefore your individual usage of the site cannot be attributed to you. For more information about Google Analytics and how data is used then please visit the Google privacy policy here: www.google.com/policies/privacy/partners
We try to ensure information on our site is accurate, complete and up-to-date however this cannot be guaranteed. All information on this website (without limitation) is provided 'AS IS' and on an 'IS AVAILABLE' basis without representation warranty or endorsement, express or implied. We do not warrant or represent the accuracy or completeness of information provided on this site nor do we guarantee that use of this site will be uninterrupted or error-free.
In no event will Ultimate Camper Sales be liable for any damage or loss that may arise from the use of information contained on the website.
All names, images, and logos identifying Ultimate Camper Sales are proprietary marks of Ultimate Camper Sales. All third-party brand names, products, services and company names used on this site are the trademarks, and trade names of their respective holders. Ultimate Camper Sales does not give permission for their use by any person other than the holders. Any such use may constitute an infringement of the holders' rights.
All content on the website is owned by or licensed to Ultimate Camper Sales, or otherwise used by Ultimate Camper Sales as permitted by applicable law or the copyright holder. You may not copy, reproduce, republish, download, post, or transmit any data contained on the website for any commercial or public purpose without prior written permission from Ultimate Camper Sales or the copyright holder.
We may make changes to this Policy at any time. If we change our Privacy Policy, we will post the changes on this page.
By using our site, you consent to the collection and use of information by Ultimate Camper Sales in accordance with our Privacy Policy. If you do not agree to this Policy, please do not use our website.
Any information submitted via our website is treated in accordance with the Data Protection Act 1998. To learn more visit the Information Commissioner's website: www.gov.uk/data-protection
If you have any questions relating to this Privacy Policy, please write to:
Ultimate Camper Sales
Unit E6, Virage Business Park
132-134 Stanley Green Rd
Poole
BH15 3AP

---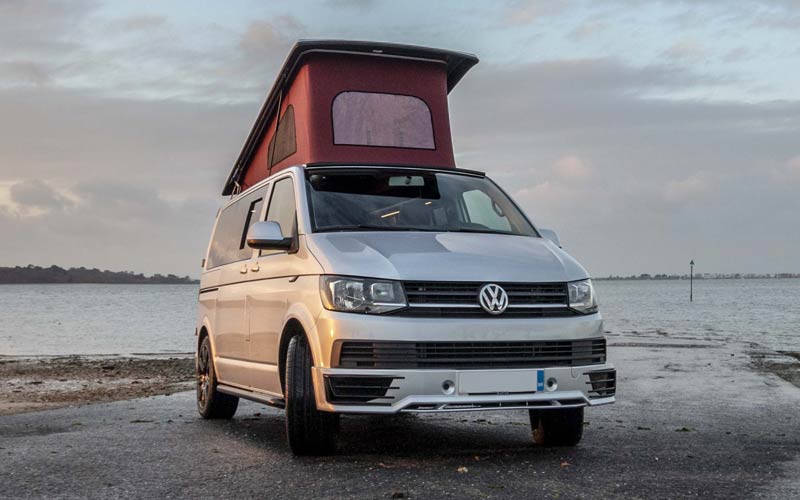 Ultimate Camper Sales are the one stop shop in Poole, Dorset for anyone wanting to source, convert or upgrade a Volkswagen Transporter van.
We work with you to create a truly bespoke vw conversion tailored to your style and requirements.
Our team are not only unrivalled in their craftsmanship, they are also passionate VW enthusiasts and care about bringing your ideas to life as accurately as possible.